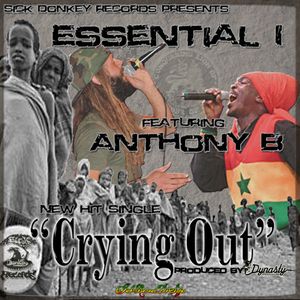 Essential I collaborates with world class performer and freedom fighter Anthony B on "Crying Out" and represents the contemporary conscious reggae movement to the fullest. Essential I points out the disparity between the billionaires and the world's less fortunate with wise lyrics that invite us to, "Look how the world a 'gwan so crazy, poor people suffering and starving daily, dem no see clear like dem vision get hazy, but Jah Jah never fail we." Both he and Anthony B share a strong commitment to social justice issues that are central to their Rastafarian faith and tradition.
  A compelling chorus and hook present the message of the single "Crying Out" a combination with Essential I and Jamaica's top chanter, Anthony B with support vocals from Sarah Christine whose soprano agility complements the two male vocalist portions seamlessly. The righteous concern that the "world is in trouble" is carried on a bubbling bass-infused steppers style reggae rhythm. 
Numerous well-regarded radio, web and sound system DJ's from around the globe have given the spotlight to the single release which is now in rotation in the U.S. in Oregon, Washington, Nevada, California, Vermont, as well as in the United Kingdom, Canada, France, Italy and beyond.
Listen to Crying Out on Soundcloud

Purchase "Crying Out" mp3 single on CD Baby.com

Purchase "Crying Out" remix by Bass Science dubstep remix on CD Baby.com

Purchase "Crying Out" mp3 single on iTunes.com
There have been two remixes that have been created from the original "Crying Out" song, one is a dubstep version by Bass Science, and the other by 3JMillion is remix of "Crying Out" in the electronica style.
Listen to Bass Science "Crying Out" remix on SoundCloud

Listen to 3JMillion "Crying Out" remix on SoundCloud