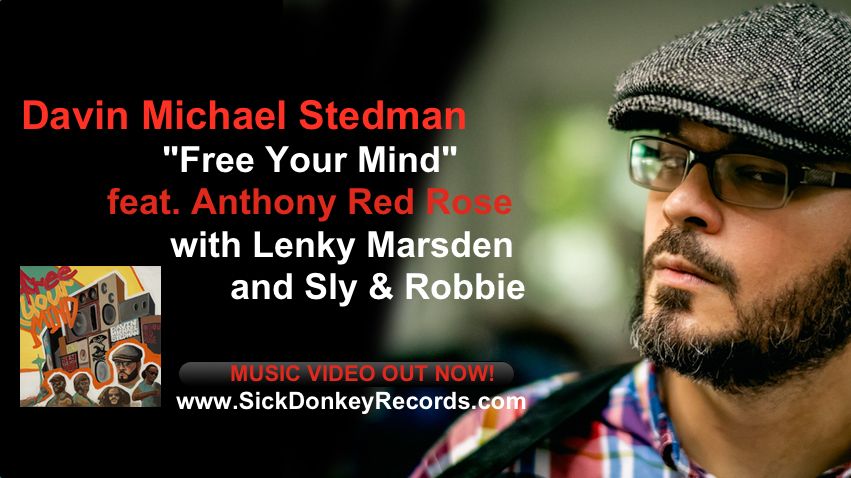 Sick Donkey Records presents 
"Free Your Mind" 
Davin Michael Stedman releases solo debut 
featuring four Jamaican Super Producers: 
Anthony Red Rose / Sly & Robbie / Lenky Marsden 
Music video out now at: https://youtu.be/hmywnG3nkJo 
Listen: 
https://soundcloud.com/…/davin-michael-stedman-free-you-min… 
Itunes: itunes.apple.com/us/album/free-your-mind-single/1353779755 
Amazon: www.amazon.com/dp/B07DW1Y7C3 
Deezer: https://www.deezer.com/us/track/467458112 
Spotify https://open.spotify.com/album/7q4sYIccwzVbJ0v3p1CEZW 
DAVIN MICHAEL STEDMAN 
www.SickDonkeyRecords.com/davin-michael-stedman 
www.instagram.com/davinstedman 
www.facebook.com/Davin-Michael-Stedman-1030731083729736 
Davin Michael Stedman is a singer songwriter and lead vocalist from Seattle, WA. His is best known for his work spanning four albums with The Staxx Brothers, a band he founded in the 2000s to express his vision that Rock had regrettably lost its Soul, and too much of its Roll. While The Staxx Brothers remain a recording and touring entity to be reckoned with, Stedman began to travel the world alone with his acoustic guitar 2015 in search of great producers, new friends unforgettable stories and adventure. 
He brought with him a collection of unrecorded songs. Yet many more songs came to him along the way. 
His travels took him to Brighton, England where he founded a band called Sherlock Soul. In New Orleans he teamed up with Eric Struthers (Neville Brothers, Doctor John) to cut sides with Justin Armstrong(Dave Matthews, Nirvana). 
But most remarkably, on his first day in Jamaica were he came to work with long time friend and Sick Donkey Records label owner Bluejay Hankins, he ended up in Sly & Robbie's One Pop Recording Studio, where he teamed up with Anthony Redrose, Sly & Robbie, and Lenky Marsden. The team would fatefully cut a single called 'Free Your Mind' that blends Stedman's unique Seattle sound with the luminaries of Dance Hall, in a 3 minute package that is at once both fresh and familiar. 
ANTHONY RED ROSE 
www.facebook.com/anthony.cameron.9404 
www.instagram.com/anthonyredrose 
Anthony Red Rose, singer, songwriter and producer, has had his fingers on the cultural pulse of reggae music for a long time. His skills are reflected in number one hits from artistes such as Bounty Killa, Beenie Man, Cobra, Terry Linen, Gentleman, Simpleton, Fabby Dolly and even his own hits like "Unda Mi Fat Ting," and "Tempo.". Whether it's about love, war and peace, human nature or the love of Creation, he brings his message across with much clarity, precision and definition. 
SICK DONKEY RECORDS 
www.SickDonkeyRecords.com 
www.instagram.com/sickdonkeyrecords 
www.facebook.com/SickDonkeyRecords 
www.twitter.com/sickdonkey 
Sick Donkey Records, spearheaded by CEO/producer Bluejay Hankins, is a small town(Tonasket, WA, USA) based record label with global connections reaching through North and South America, Jamaica, Europe, Japan and beyond. 
Focusing on strictly conscious music, the Sick Donkey label has recorded with the likes of Essential I, Anthony B, Junior Reid, Adrian Xavier, Turbulence, Mykal Rose, Promoe, Half Pint, Squidly Cole, Earl "Chinna" Smith, Dubtonic Kru, Lutan Fyah, Mark Wonder, Micah Shemaiah and many more to spread a message of positivity around the world. 
BLUEJAY 
www.SickDonkeyRecords.com/dj-sticky 
www.twitter.com/bluejayproducer 
https://www.instagram.com/bluejay_aka_dj_sticky/