Sick Donkey Records & 3y3 Vizion Muzik present: 
3gypt "Paycheque"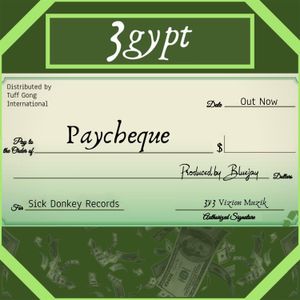 Produced by Bluejay 
International artist 3gypt just released her song Paycheque. Its a highly anticipated song that has been in the works for some time and is well seasoned for its release to catapult 3gypt into 2020 and beyond! 
STEAM & PURCHASE LINK:shorturl.at/byJRY 
The first song released from 3gypt's debut album Phoenix Rizing, Paycheque is a riveting anthem of cosmic magnitude that shines light on the often overlooked plight of the working class citizens of the earth. Roots music meets modern soul in this daring and inquisitive tune by the rootical artist. 
To produce the riddim Bluejay, also known as DJ Sticky, brought together the musical craftsmanship of some of the greatest roots reggae players in history, including the living legend Earl Chinna Smith on guitar, the reggae backbone of Squidly Cole & Christopher Meredith playing drums and bass respectively, with Bowie on keys. 
Paycheque was engineered by Earl Smith Jr. and mixed by the multi-talented Jallanzo to make it the audio masterpiece it is today. 
3gypt is fresh from a promotional tour in the reggae city of the world, Kingston, Jamaica, where the riddim was produced, the song is already buzzing in the streets! 
Paycheque is distributed to all major online platforms and streaming sites by the world renowned Tuff Gong International Distribution, part of the legacy of the legend Bob Marley. Check out some of the links here shorturl.at/mCKX2 or search for Paycheque on your favorite streaming site. 
Soon to follow is the music video for "Paycheque", filmed & directed by Bluejay in Port Antonio, Jamaica, one of the island's most beautiful parishes. 
This collaboration with Bluejay's label Sick Donkey Records, is already making waves, and slated to be an international hit! 
The album, which is being independently released by 3gypt's own 3y3 Vizion Muzik, has launch party planned for Thursday, February 27th at DUB School in Kingston. 
Media contact: 
Foundationmedia@tuffgongmusic.com 
For drop, jingles, dub plates and promo copies contact 3y3vizionmuzik@gmail.com or sickdonkeyrecords@gmail.com 
#3gypt social media links : 
https://linktr.ee/3gyptsun 
www.facebook.com/3gyptSun 
twitter: @3gyptsun 
Instagram: @3gyptsun 
www.3gypt.wordpress.com 
youtube channel: 3gypt Sun 
#SickDonkeyRecords links: 
FB Sick Donkey Records music group or Sick Donkey Records. 
IG: @sickdonkeyrecords 
Twitter: @sickdonkey 
YouTube: shorturl.at/ruLPW